EVENTS and INSTALLATIONS


Through organising events on visual arts, THP aims at becoming a place of practice-based research, sparking collaboration and contamination, to dig deep into the role of images within our society.
Yes, we're a House, but we're not static: we love to receive guests as much as we're happy to step outside the gate and bring our vision outside beyond the valley. It's part of our essence to organise events in the House as well as take part in external festivals, both securing us a constant flow of collaboration and exchange with other groups and individuals that share our same values and ambitions.
ARCHIVE
Sampierdarena Pantagruelica Fest


From the 14 to the 16th of July 2021 was invited to take part to Sampierdarena Pantagruelica Fest, organised by Mixta, a curatorial group based in Genoa.
Sampierdarena Pantagruelica Fest's mission is to celebrate adventure, social relationships and bodies through art. The work of artists from all over Italy was exhibited inside five vaults under the railway, each with a window on Via Buranello, while the piazza inside the CCBur became a meeting point, where you can chat, sip lemonade, listen to a talk or to some music, and just enjoy being together.
Following the spirit with which François Rabelais, in Gargantua e Pantagruel, celebrated life without taking it too seriously, we believe that having fun is the most important social and cultural glue. Pantagruelian is our party, exuberant, abundant, sincere, just like our art.
Indipendent Publishing Retreat - First edition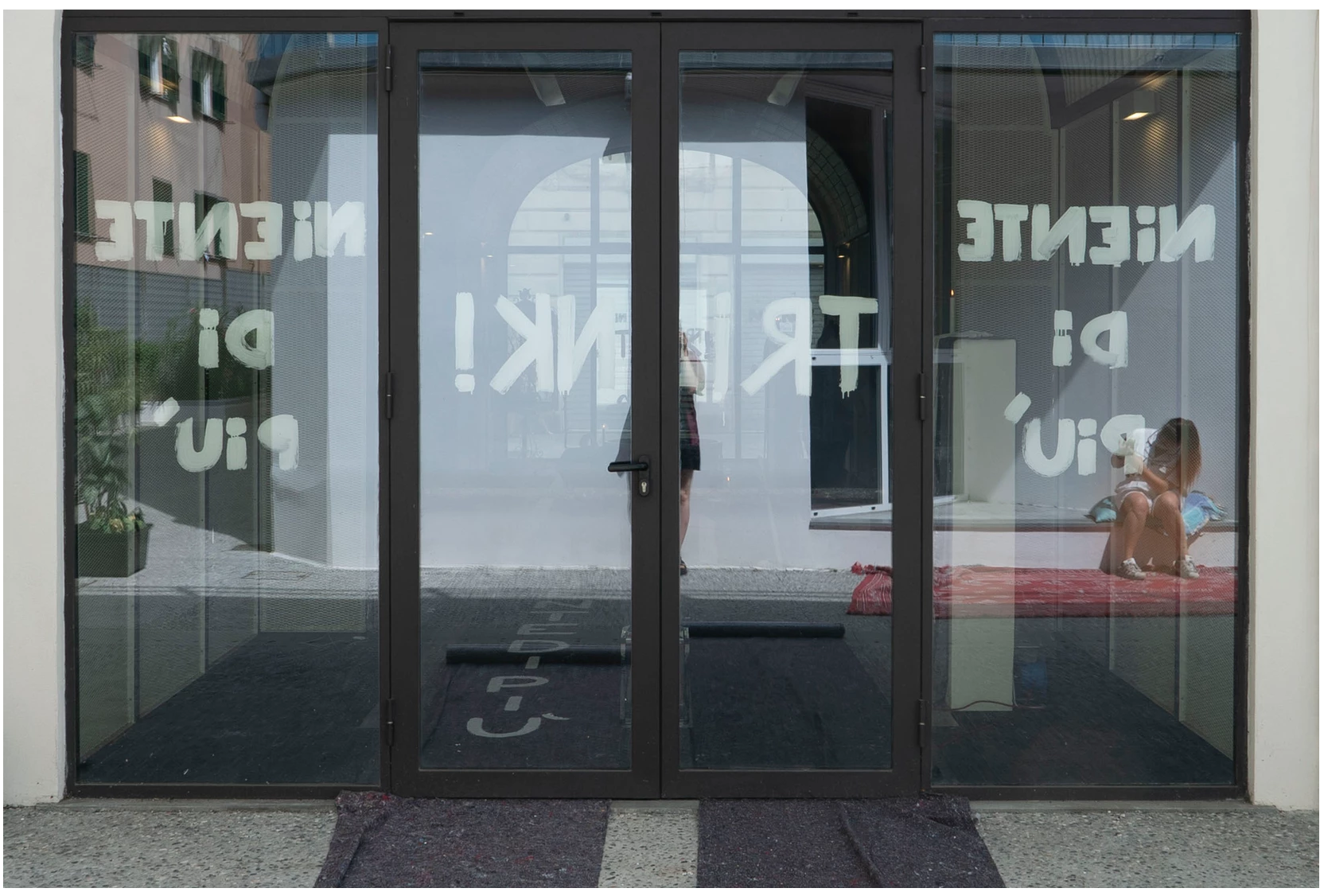 "TRINK! Niente di più, niente di meno"
Orecchie D'Asino - Sampierdarena Pantagruelica Festival
"Tu sei l'oracolo"
Team THP - Sampierdarena Pantagruelica Festival
"000,00**CONTROLLA E CORREGGI"
Sara Vighi - Sampierdarena Pantagruelica Festival
The Independent Publishing Retreat was our first event dedicated to photographic publishing, that we curated together with Yogurt Magazine and Zone Magazine. It took place in the weekend from the 29th of April to the 1st of May 2022 at the House.
The three days were designed to create an horizontal exchange between the organisers, the participants and the artists we invited. Every moment, from the arrival to the final goodbyes, gave everyone the chance to share their work, receive feedback, discuss ideas and reflections.
Check the open call for the second edition